Striking the status quo: Mary Teichert leads the way for women in construction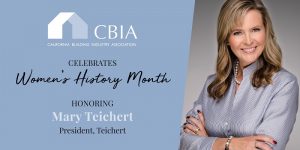 This Women's History Month, CBIA highlights a trailblazer for women in the construction industry: Mary Teichert, President of Teichert, Inc.
The history of Teichert, Inc., coincides with the history of California itself. The company was founded when California was only 37 years old and owns the oldest active contractor's license in the state.  To be President of such a company is of distinction in its own right.  Layer onto this the fact that Mary works in a field where women are overwhelmingly underrepresented, and it's clear to see how she exemplifies the possibilities for women in construction.
Construction is one of the few industries that remains heavily male-dominated, with women making up only 10% of the construction workforce, according to the U.S. Bureau of Labor Statistics.  This type of environment is plainly unreflective of the real world, which is why female visibility in the industry through leaders like Mary Teichert is so important.
"I'd like to carve a good path. I don't see many good examples of how this is done," said Mary.
Mary's path to success was not as direct as some might think.  Even though Teichert Construction has been owned by her family for well over a century, Mary had not originally planned to partake in the family business.
"I definitely did not always know I'd be in this line of work.  I actually grew up expecting I would not be," said Mary.
The company's philosophy is to offer executive positions to the most qualified people, rather than automatically pass on titles to family members.  They want their employees to feel that they have opportunities for a good career at Teichert Construction, free from worry of "getting bumped out by some [Teichert] uncle or cousin that needs a job."
Mary worked in the digital realm of Apple after getting her MBA, but never lost her affection for the construction industry she grew up around.  When her uncle suggested that she reconsider working for the family business, Teichert eagerly accepted the proposition.
"I feel such a connection to the work that we do," said Mary.  "I kind of jumped at the chance to be part of that. There are so many neat people that work here, and so much good work that we do."
This of course meant that Mary would need to start at ground zero again.  In line with the company's philosophy, her last name would not be a golden ticket to an executive title.
"My first job here was working in our quality assurance lab," said Mary.  "And then branching out and working in the rock plant for a while, and was an estimator… So [I] really did a lot of different jobs within the business, because I came into it without that background."
She actively sought out ways to make up for lost time in the industry.  To authentically learn the trade, she spent years working in different divisions of the company.
"I feel like the most valuable education I probably ever had was working in the field and being with people, and learning and doing what they're learning and doing," Mary said.
In total, Mary ended up working about 13 different jobs at Teichert Construction before ultimately being promoted to president in March 2020.  As excited as she was to begin the new position, she quickly became aware that she had no time to celebrate as the reality of COVID-19 and lockdowns struck the world.
"Becoming president at the beginning of the pandemic was a whirlwind," said Mary.
As the company's new president, the pandemic forced Mary to hit the ground running.  She worked with her team to decide how Teichert could continue to function without putting employees at risk of contracting the coronavirus on the job.  This uncertainty was quickly cleared up, however, as construction was designated an essential industry in April 2020 by the state of California.  Mary was then able to expand her focus to other pressing issues, including the need for more construction workers, particularly and especially women.
From the start of her career in the construction industry, Mary took note of the palpable lack of female representation.  Now standing in a position of greater power in the company, she ensured that Teichert was involved in multiple programs aimed at encouraging and supporting women in the industry.
"I think one thing that a lot of women don't understand is how well-paid this industry is," said Mary.  "In construction, women make 99% of what men make.  It's really an even playing-field, in a way that most industries are not."
Mary put aiding women in construction among the top of her priorities, just as she had done in years prior.  She worked with the Contractors State License Board to facilitate workshops and webinars for women interested in construction careers.  Before the pandemic put a halt to in-person gatherings, she would also attend annual Women in Construction legislative advocacy days at the state capitol.
"I try to figure out, 'What are ways that we can encourage more women to get into it?'" said Mary.  "What is true is there isn't much of a pipeline."
To that end, Mary worked with the Association of General Contractors to advance "Go Build," a high school outreach program created to educate people on the possibilities of a career in the construction labor workforce.
"Basically it's trying to educate not only high school kids, but also their parents and counselors about why construction is an awesome field," said Mary.  "It's very well paid.  It's a set of trades that's really transferable… so [we try] to promote those characteristics of construction, because I think in our society there's sometimes a tendency to think it's not that hard, or it's like a back-up plan, or it's kind of looked down upon in some cases."
Mary said that construction being designated an essential workforce may have helped remove some of this stigma.  In a silver-lining of sorts, the pandemic highlighted the "good work" of construction that originally drew her to the industry: creating and improving roads to get people where they need to go, and building houses at a time when the demand for housing has been unprecedented, as people have been required to work from home.
Despite the added stress of navigating Teichert through a once-in-a-century pandemic, Mary seemingly remains in awe of the industry she has grown to love and the workers who continue to impress and inspire her every day.
"One of the silver linings about COVID is that I have fewer meetings, so I can spend more time going out to job sites and plants and visiting with people, and seeing the work.  I love that," said Mary.
For anyone looking for a job in construction, or anyone starting off in the workforce in general, Mary says that hard work and consistency is key to a successful career.
"Getting up and working hard is essential.  But the nice thing is that's all that's essential, and you can learn everything else," said Mary.
This method has clearly worked in Mary's case, as she now joins the meager 16% of women in construction who hold an executive title.  Though she never saw much female representation as she was rising through the ranks, she did not allow construction's widely male workforce to intimidate her into passivity.  She is a testament to the possibilities for women in her industry.  And for Mary, there's no other industry she'd rather be in.
"I love the actual work we do," said Mary.  "Kind of like, going back to growing up around it, and feeling so happy to get to be a part of it --- seeing what you do every day is really powerful.  We go out there to some setting, and then by the end of the day it looks different than when we started.  That's pretty awesome."
Marissa Saldivar // CBIA Political Communications Writer