Professional Women in Building
CBIA Professional Women in Building (PWB)
Our mission is to support the advocacy efforts of the California Building Industry Association (CBIA) and create a community of individuals dedicated to instilling confidence, fostering inspiration, and advancing professional opportunities for women in building.
*CBIA PWB are dedicated to providing valuable resources and opportunities for our members to connect, engage and support one another through these challenging times. Click here to join the conversation*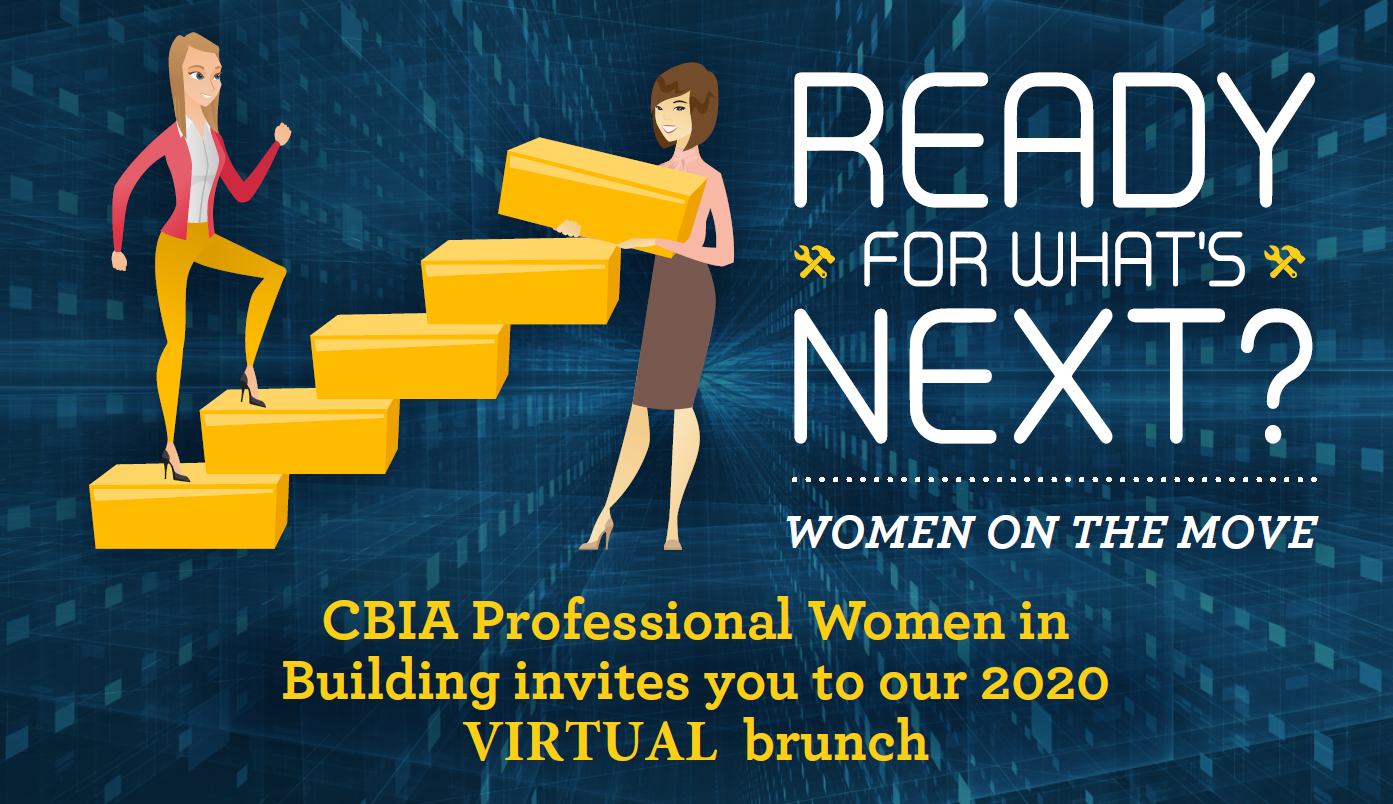 "Ready for What's Next?" Virtual Bruncheon - SAVE THE DATE!
Sponsored by:
Friday, June 12
10:30 am - 11:30 am
Zoom webinar
REGISTER HERE
Virtually network and explore the future of women in the building industry and how to be empowered navigating beyond the Covid 19 crisis.
Featuring National Industry Leaders
Dan Dunmoyer- President/CEO, CBIA
Sheryl Palmer- Chairman/President/CEO, Taylor Morrison
Joan Webb- CMO, The New Home Company
Layne Marceau- Nor Cal Division President, Shea
Join us afterwards for a virtual networking champagne toast at 11:30am!
Save this link!
Meeting ID: 842 3301 6654
Password: 845257
Please reach out to Council President, Mitu Walia, with any questions or concerns you may have. We hope to see you there!
About
The Professional Women in Building council is governed by a group of volunteer leaders who aim to connect, educate, and inspire others. Meet our 2020 board.
Our council's networking events, educational outreach, scholarship program, and award-winning legislative advocacy efforts are just a few of the many ways we support homebuilding and give back to our community. Read our fact sheet to learn more about our council.
Membership
When you join the CBIA PWB council, you join the ranks of other dedicated, ambitious and successful women and men throughout California who support and uplift one another, both personally and professionally. CBIA PWB membership has many valuable benefits. More about PWB membership.
2020 Events
The CBIA PWB host annual events that benefit building trades education for local high schools, promote membership, and award scholarships to future industry leaders. Visit our Facebook page to view photos and information from past events.
Strategic Board Planning Session: February 8, 2020, Still Waters Winery, Paso Robles
Legislative Day: February 18, 2020. 8:30am-1pm. Sacramento, CA
Ready for What's Next Virtual Bruncheon: June 12, 2020, 10:30-11:30am
Little Black Dress and Tie Social: October 14, 2020. Disneyland Hotel and Resort
Scholarships
Students pursuing advanced education in any building-related study can qualify for a CBIA PWB scholarship. Awards are presented to recipients at the Annual PWB Bruncheon each spring. Email cbiapwb@gmail.com for more information on the 2020 scholarship opportunity.