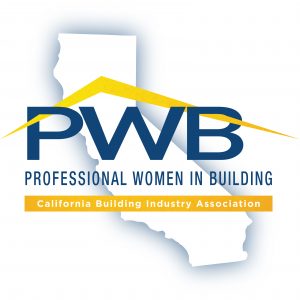 CBIA PWB
Our mission is to support the advocacy efforts of the California Building Industry Association (CBIA) and create a community of individuals dedicated to instilling confidence, fostering inspiration, and advancing professional opportunities for women in building.
Congratulations to our 2023 PWB Board!
Chair: Stacy Beers
Vice Chair: Karrie Mosca
Secretary: Jessica Stillson
Treasurer: Linda Hebert
Communications Chair: Allie Jackson
Educational Outreach Committee Chair: Mitu Walia
Legislative Chair: Audrea Coble
Membership Chair: Jill Herman
Programs Chair: Melissa Kiland
Sponsorship Chair: Cynthia Lopez
Immediate Past Chair: Allie Jackson
About
The California Professional Women in Building (PWB) is a council within CBIA. Our national chapter is the National Association of Home Builders' (NAHB) PWB, and our three local chapters: BIA Bay Area PWB, BIA Fresno/Madera PWB, and HBA of the Central Coast PWB.
CBIA PWB's networking events, educational outreach, scholarship program, and award-winning legislative advocacy efforts are just a few of the many ways we support homebuilding and give back to our community.
Membership to this PWB council requires local BIA and/or CBIA membership and an $80 annual fee, which includes membership to NAHB PWB.
As our industry faces new challenges and opportunities, we encourage women and men in homebuilding and construction to join CBIA PWB's cause of professional empowerment, leadership, and success in achieving "Housing For All". Become a member of our council today.
Education
CBIA PWB awards scholarships to students pursuing industry careers and certifications. The 2023 CBIA PWB Scholarship Application will be available in April.
Our council is a proud supporter of the Donald Chaiken Building Industry Technology Academy (BITA) program. CBIA PWB members have raised thousands of dollars and volunteered numerous hours to help educate the next-gen workforce in this 4-year construction curriculum, provided at no cost to high schools by the California Homebuilding Foundation.
You can mentor a construction student today, volunteer in a classroom, host a jobsite visit or set up an internship for students interested in pursuing a career in the construction industry. Join the PWB in our Educational Outreach Committee initiative by contacting Mitu Walia at mwalia@klein-financial.com, Debb Long at dlong@ljpltd.com or Jill Herman at jherman@mychf.org today.
Learn More
Read our FAQ (frequently asked questions) page to learn more about the CBIA Professional women in Building and make sure to follow us on Facebook, Twitter and LinkedIn for regular updates and announcements.
Have a question? Contact our council leaders.